Enable Ireland Virtual Service Support Worker Claire Pringle
Meet Claire Pringle, Virtual Service Support Worker and one of this years Life with No Limits Champions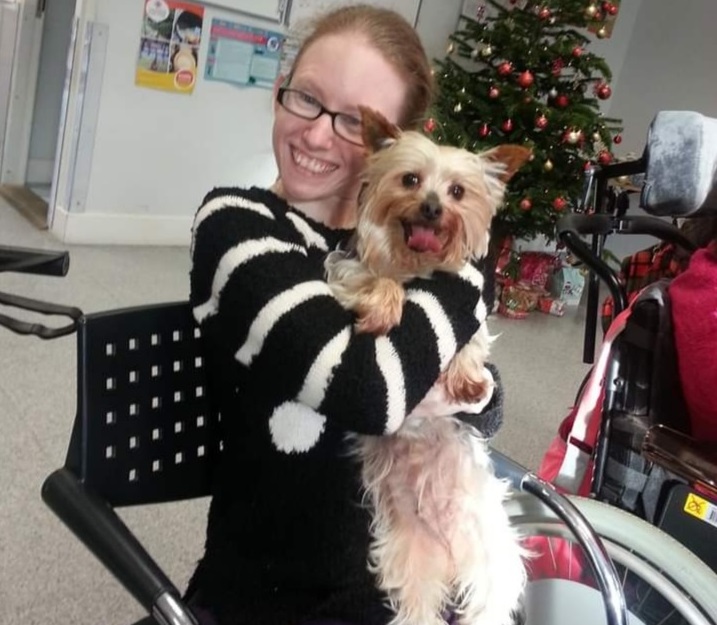 Claire Pringle Virtual Service Support Worker
One of this year's Life with No Limits Champions is Claire Pringle. Claire lives in Dublin with her family and attends Enable Ireland's Adult Services. She recently started work as a support worker with Enable Ireland's Virtual Service for adults. Claire's work involves facilitating sessions on the virtual service and providing technical support to other adults with disabilities using the service.
"In November 2021, I got a job as a support worker with Enable Ireland's virtual adult service. I started using the Virtual Service after the Covid -19 lock down in 2020 and before I became a paid employee, I did voluntary work with the services. My job includes hosting sessions on the virtual service and providing technical support to other service owners who want to take part but may be having difficulties.
Through the virtual service, I've made new friends all around the country and I stayed in touch with friends from when I used to attend Enable Ireland's day service in Crumlin. Because it is a virtual service I am able to support them no matter where they live. There are people that I have never met before but we all get on like a house on fire. We have the craic!
"I like listening to people and hearing what they have to say, I can be a shoulder to lean on. I see myself as a friend first and a support worker second. Other service owners will come and ask for help when they have a problem. I feel so chuffed that I can help someone out. It feels great to fix a problem for someone. You may have heard of the movie a Dog's Purpose where a dog helps people to find their way, well the Virtual Service is "Claire's Purpose" because it helps me to find my way."
The job really suits me and I am very grateful to my supervisor, Jason, he understands that I want to work from home and use the service at home. Working with Enable Ireland has really got my confidence up. It is a really personal achievement for me and I've grown as a person. Home is my comfort zone so being able to work from home really suits me. I'm talking a lot more now. It's easier to be myself and open up at home.
I really don't know where I'd be without the virtual service it gets me excited for the next morning.
I also love working with the other support workers. We each host a session every week. Mondays we have advocacy, Tuesdays are Health and Wellbeing and I host that session. Wednesday is our virtual radio show, Harmony FM, Thursday is technology and Friday is Inclusion. It is a big responsibility to host a session but I love doing it. The really great thing about the service is that we are involved in the planning of all the sessions. For example, having evening sessions was our idea or running a film session on a bank holiday when everyone is at home. Everybody watched the film online and then we had a great chat about it afterwards. It's very social and I was delighted to be able to do that. We said we wanted it and so we made it happen. It's great that we have the opportunity to do this and the Enable Ireland is supporting us to do this.
Another thing I love is virtual dance lessons. I started doing these with help from Renata who works with Enable Ireland in Dun Laoghaire and then when the Zumba teacher was not available for the virtual service, I was asked by the virtual service management to stepped in and lead the session.
Getting this job has also been great for my family. I live at home on Cork St. in Dublin with my Dad, my sister and my dog Juno. My family get to see me working and that's really important to me. The money I earn also helps with the shared bills. My sister works four days a week in the office and one day remotely, so we get to work together on that day.
I've participated in lots of different sessions with the service and had opportunities to get involved with other organisations. I took part in a panel session on technology that looked at a whole range of the different structures / dynamics for the virtual service. I was the only female on the panel and I felt a real sense of accomplishment. It doesn't matter who you are, if you got knowledge about this we want to hear about it.
I feel delighted to be involved in the big stuff and I am totally chuffed to be working closely with the top people in the organisation - the people behind the progress that no one knows about – and I feel privileged and honoured to be doing that.
My wings are still flourishing, thanks to the virtual service I can finally see them now and I couldn't be more grateful and prouder of myself as I am today. It took a long time for me to get back to me. I feel with the virtual service, I am home. I am the girl who I needed to be growing up and that is why I hope to be there for other people. I can be the support I needed when I was younger for someone else.
I've lots more planned for the future as well! I am getting an American disabled dance group to come on as guest speakers, I am organising a Virtual Service Photography Exhibition both online and to be viewed in centres, and I am arranging a tutorial from a health guru for the virtual service.
Here is a poem I wrote on the Virtual Service and what it means to me.
"She Changed She Changes,
But not overnight like in the books you read. Over years. Slowly
It takes both sun & rain for a flower to grow
But she did it,
She is me.
Virtual is giving me the space to be myself to find myself"