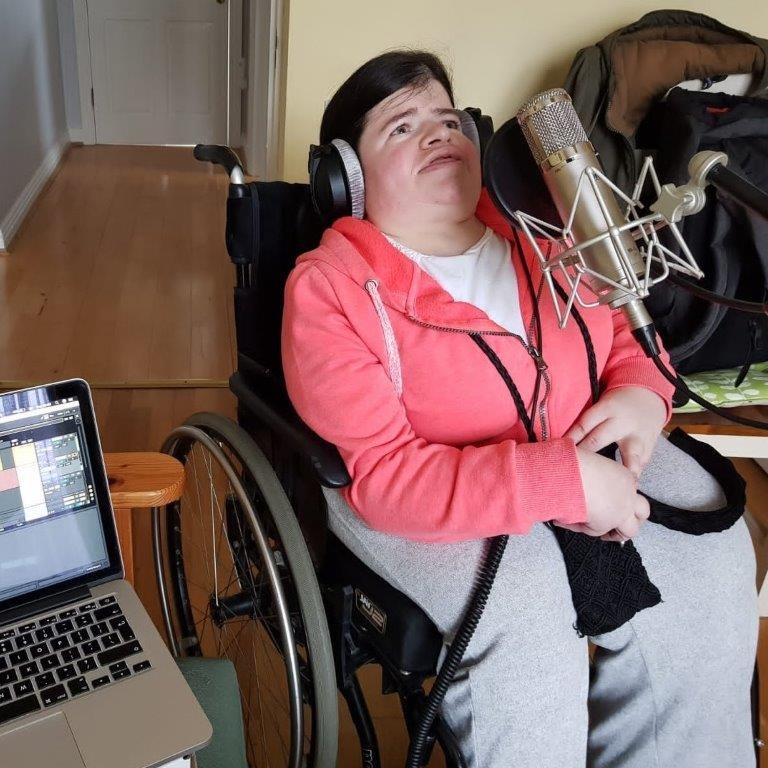 Laura Dempsey Life with No Limits Champion
Laura is a visually impaired singer, songwriter and author. Over the last year, Laura used technology to record and release her own original songs and wrote her autobiography "All about me by Miss Laura D." Laura attends Enable Ireland Adult Services in Crumlin.
"During lockdown in 2020, I got to produce and record my first two songs "This is my family" and "Me and my friends" with other musicians Peter Fitzpatrick, Fiach Ó Muircheartaigh and Alan Kavanagh. I am visually impaired so I use JAWS, a computer screen reader program for Microsoft Windows to write the lyrics. We were able to do everything virtually, working together and meeting once a week using Microsoft Teams technology. Since then I have recorded two more songs which I am releasing later this month. 
My inspiration for my songs is my family and friends. I was looking at other people, like my sister, fulfilling their dreams and I wanted something positive for myself that I could do. So I decided to write these two songs and it has been a really positive experience for me. I got to work with a really great bunch of people. It wouldn't have happened without the support of my friends in Enable Ireland. I'm so delighted with the positive reaction that my songs are getting. It sounds strange but lockdown has really changed my life for the good. 
The idea for writing my book came from my counsellor when I was feeling a bit low. Writing about my life has helped me to see what I am capable of and I hope my book might help others to see what they are capable of as well. 
Over the last year, I have done so much, not physically, but virtually. In the virtual world I have had no limits. It's been such a positive experience. I've learned lots of new skills and technologies, like using Teams. It has given me a lot of confidence.
I'm getting training at the moment to be a facilitator on Enable Ireland's Virtual Adults Services. It's very exciting to be part of this team and I'm really looking forward to supporting others. My advice to anyone is if you need help with technology, just ask for it."
You can download music from Laura Dempsey from any digital music platform, including Spotify and iTunes. Details of Laura's autobiography, "All about me by Miss Laura D", will be available shortly on www.enableireland.ie.