Emma Browne is from Tousist outside Kenmare in Co. Kerry, and is one of our Life With No Limits Champions this year. Earlier in the year, Emma took part in the Kerry Rose of Tralee Selection competition and also started working as a virtual support worker with Enable Ireland.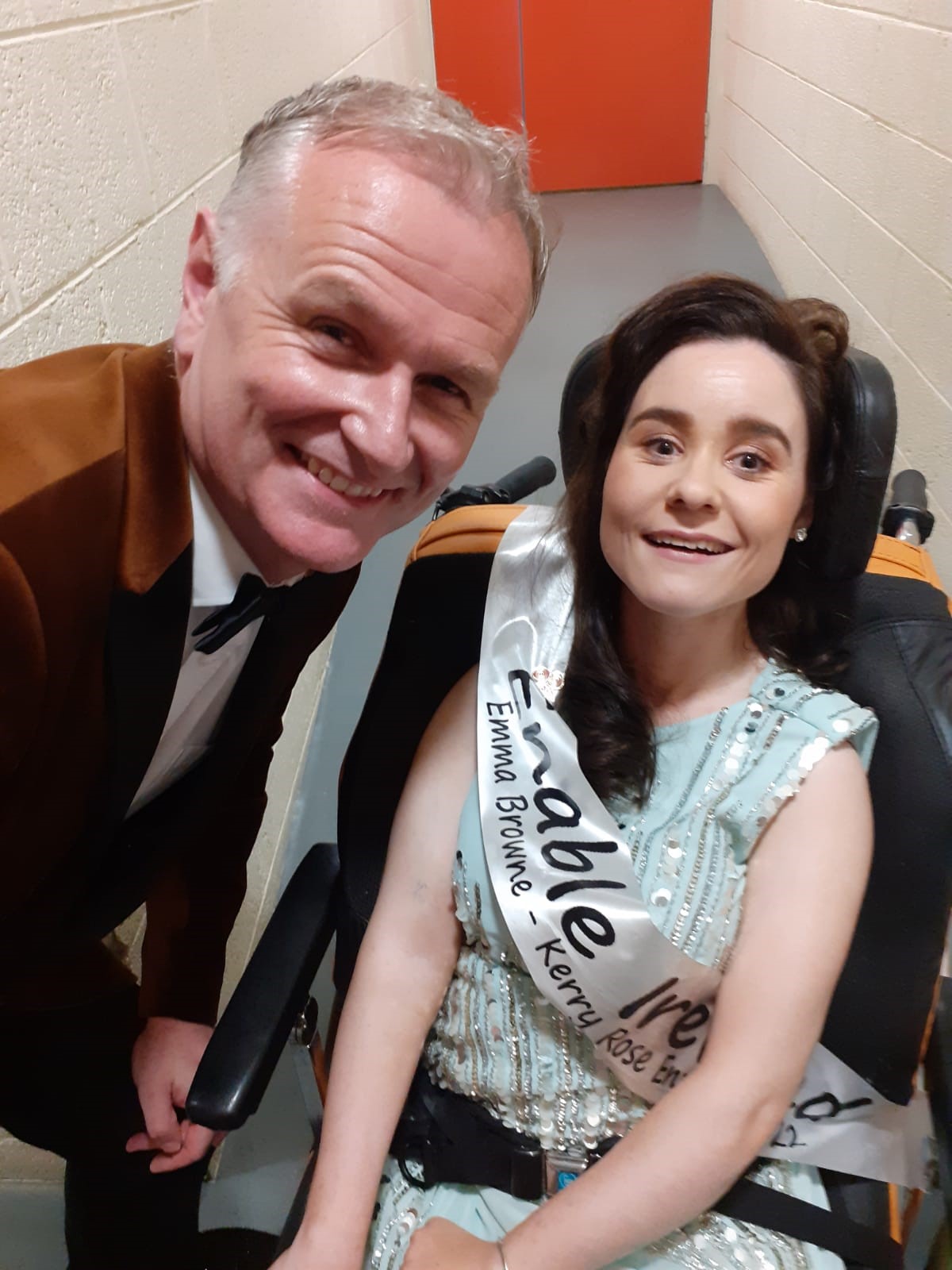 Emma Browne meets Daithi O Se at Kerry Rose selection event
"I used to watch the Rose of Tralee when I was a child with my grandmother. We watched it every year and since then I have always wanted to be a contestant in it. I spent a year and a half in lock down because I have an underlying health condition. I couldn't go out in my community until I got the vaccination. Once I got the vaccination, I just said to myself 'I'm just going to go for it!' So I entered the Rose of Tralee competition.
I really, really enjoyed the competition. It was nerve-wracking in the beginning, meeting all the girls but we had lots of evenings out and that brought us all closer. As part of the selection, we had lots of trips and events. We went to the Kingdom greyhound track one evening and to the Kingdom County Fair another day. We did a trip to Dingle, which included lunch in a traditional pub with traditional music and dance,  a boat trip around Dingle harbour, a visit to dingle falconry, dingle distillery, local cheese shop and Brian de Staic jewellery makers. We had to meet the public at all the events, getting our photos taken with lots of people and showing them that we could represent Kerry. I absolutely loved meeting all the children and talking with the public.
I loved every minute of it, it really suited me as I love being out in my own community and meeting people. I do this with Enable Ireland and the New Directions programme.
At the main event I got to meet the one and only Daithi O' Se.  Another thing I really enjoyed was getting my hair and make-up done and getting dressed up for the event. We had to wear a different dress for each event. It really was an experience of a lifetime and I loved every bit of it! It really brings you out of yourself, I gained great confidence.  I would do it all over again if I could. I wasn't selected in the end but I was delighted for the Kerry Rose who won. She really deserved it.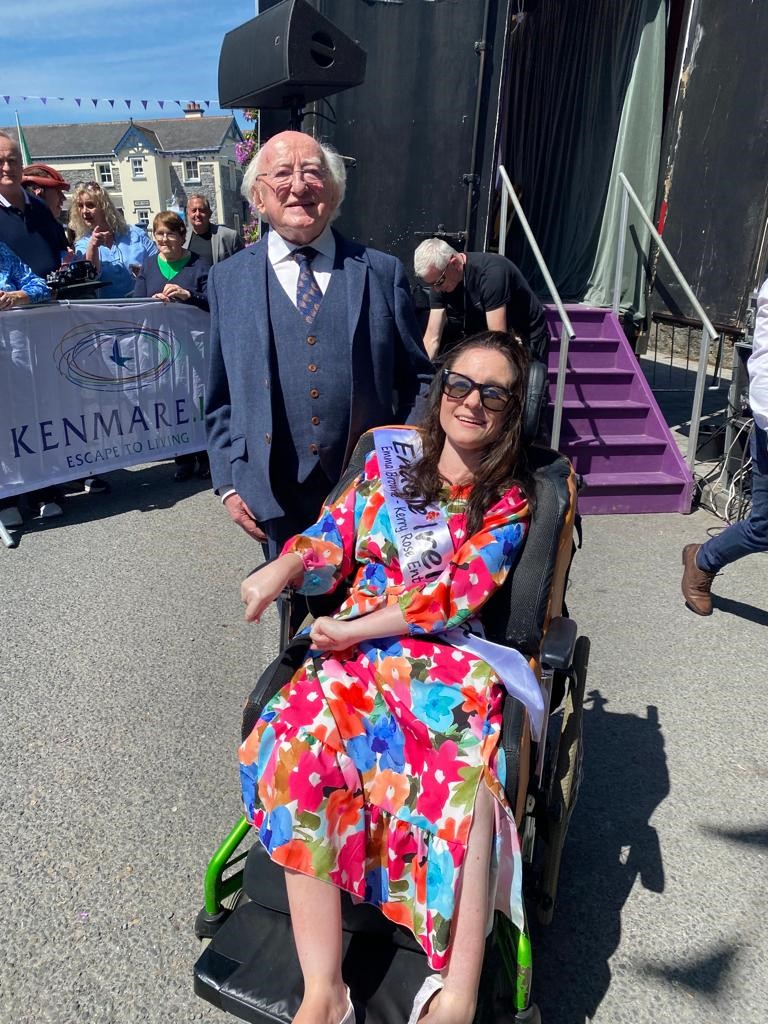 Emma Browne meeting President Michael D Higgins
On one of the events, I got to meet the President of Ireland, Michael D. Higgins when he visited Kenmare and it was a great honour. He is an absolutely lovely man.
I also work as a Virtual Service Support Worker with Enable Ireland. I facilitate activities on the Virtual Service for adults. I host different sessions like quizzes, music, meditation and games, and I'm in a technical group as well. I found during Covid while not being involved in my community and meeting people was really tough until the Virtual Service was set up. I didn't know what it was until I started to join it. At the beginning I got to meet my friends from the Enable Ireland service in Tralee, and got to meet and make new friends and contacts through the national virtual service, it really brought all us service owners together. It really brought us all together and I've made lots of new friends through it.  Now I even got a job out of it, which is brilliant!
Virtual service gave us accessibility to communicate and contact each-other from all parts of the country, and opened so many doors for us from our own homes as well as centers. Most importantly it has given us choice.
As part of my work I have created videos for other service owners showing them how to use technology. For example, I don't read but I use voice recognition on my iPad instead. I made a video showing people how to set up and use Siri on their iPad for this, as well as creating awareness videos all of which I am passionate about. I'm kept busy with the job but I like it. I like interacting with people and I like helping and being around people too.
My advice to others is don't hold back. If there is something you are interested in you should definitely put yourself forward for it.  Just go for it!"