Host of 'Questions with Mikey' on Enable Ireland Mid-West Virtual Adult Service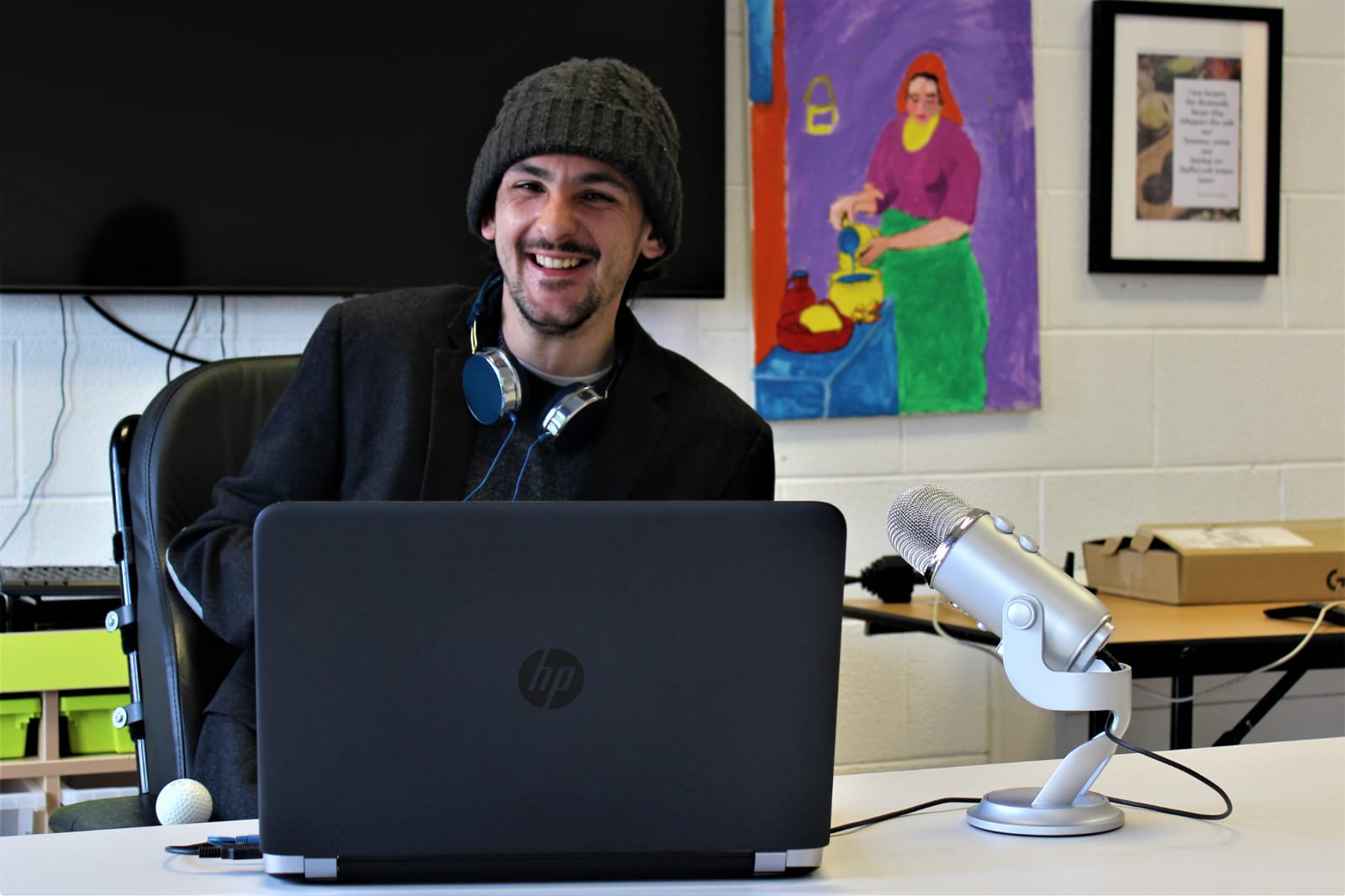 Mikey O'Donerty Host of 'Questions with Mikey' on Enable Ireland Mid-West Virtual Adult Service
Mikey O'Doherty is in his twenties from Limerick and half way through a degree in History and English with Mary Immaculate College. He also attends Enable Ireland Adult Services in Quinn's Cross, Limerick and has been using their Virtual Adult Service throughout the Covid-19 pandemic. The service came about after the first lockdown in 2020 and is a virtual community centre enabling individuals to engage with activities at their local Enable Ireland service from the comfort and safety of their own home. The daily timetable of different activities are chosen by the adults themselves and reflect their diverse interests from music, to art, gardening to cooking and a host of other interests. As part of the service, Mikey runs a weekly show called 'Questions with Mikey' where he interviews inspiration guests on their experiences, passions and the big questions in life, all in his very own relaxed conversational style.
It's been a hard year. We've all had to adapt and come up with new ideas of what we can do to fill our time. I've been lucky that I have my studies and I have been able to get into some classes in Mary I. too. It's been challenging but I tell myself if other people can do it, then I can too. Enable Ireland has been a great help to me during this year.
"My idea for the chat show started with the Tommy Tiernan show. I am a huge fan of his chat show. I often watch re-runs at night when I can't sleep. He's my inspiration. My keyworker Orna suggested that I set up my own show.   And I thought, why not! I spent a lot of time at the start planning it all out and thinking how I would do it. I used the Tommy Tiernan show was my inspiration. I don't rehearse with guests or do a dry run in advance. I do it all live. The guests don't know what questions I am going to ask them. It's a conversation really. The shows are 45 minutes long and at the end I open it up to the floor. I've a great audience and it's always lively! I give them 45 minutes of chat about life, people's passions and everything non-covid! I get to know my guests over the course of the interview and gradually work up to the big questions. 
I've had some really inspiring guests on since I started and I'd like to thank them all for coming on.  One of my favourite interviews was Shane Dowling, the All-Ireland medal winning Limerick Hurley. My idol too. I also interviewed Joy Neville, the first female referee for a European cup match. Her's was an inspirational story. It's not just people from the sports world, I've also interviewed politician like Councillor Elisa O'Donovan. She's a great advocate and that was a lively discussion about living as a wheelchair user or someone with a disability in Limerick.  Another really inspiring interview that left me with the hairs standing up on the back of my neck was with the Head of Diversity and Inclusion in the GAA Ger McTavish. I spoke with musician Sean Keane and he was all about positivity. 
My show is all about positivity and blocking out the covid negativity and bringing hope to people. I do it at 11am on Friday, so it can set you up in a positive mood for the weekend. 
The Virtual Adult Service has been brilliant. It's helped to keep me going this last year. We've built a community and you can really get to know people. I feel like I've a bigger group of contacts now because of it. It's opened up new opportunities to me, like hosting my own chat show. I still love coming into the centre in Quinn's Cross. If I am having a bad day at college I know I can just drop in for a cup of coffee. All the staff here are brilliant.
I am taking a break from the chat show for the summer and I'm going to do some podcasts but I'll be back with a bigger and better show in September. I've big plans. I want to be the next Tommy Tiernan! Once Covid is over I would love to hold my own show in the Enable Ireland centre in front of a live audience to go along with the virtual show. It will be great to be able to sit across from my guests when I interview them."